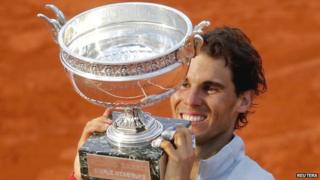 Reuters
Rafael Nadal has won his ninth French Open title after beating Serbia's Novak Djokovic.
The world number one won in four sets 3-6 7-5 6-2 6-4 in a final that lasted more than three hours in hot conditions.
He's the first man ever to win a major title nine times, taking his Grand Slam total to 14.
The victory also means he will stay as world number one ahead of Djokovic, who's ranked number two.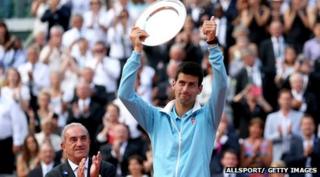 Allsport/ getty images
At the start of the match it was Djokovic who started off stronger, taking the first set but he couldn't find a way to beat Nadal.
"It was an emotional day. I have tried with all my power, my strength, my capacities but Rafa was the strongest on court," Djokovic said.
"In matches like this every moment is crucial. Playing against Novak is always a big challenge, I had lost against him the last four times," Nadal said on court.
"I feel sorry for him today, he deserves to win this tournament."