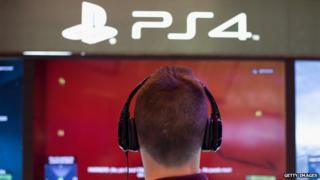 Getty Images
Sony have overtaken Nintendo in games console sales for the first time in eight years.
Sony sold 18.7 million systems in the last financial year, compared to Nintendo's sales of 16.3 million video games machines.
The recent success of Sony's sales are thought to be down to the popularity of the Playstation 4.
Nintendo's Wii U, controlled by a touchscreen, has struggled to replicate the success of the original Wii.
The sales figures also include the older PS3 and original Wii, in addition to Nintendo's 3DS and Sony's PlayStation Vita handhelds.