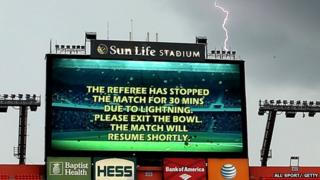 ALL SPORT/ Getty
England's match with Honduras took a dramatic turn when a dangerous lightning storm stopped play.
The team was forced off the pitch for 40 minutes during the match in Miami which ended in a nil nil draw.
The game was England's final warm up before heading to Brazil for the start of the World Cup.
We're less than a week away from the World Cup Kick-off.
Take a tour of the hotel that the England team will stay in here...