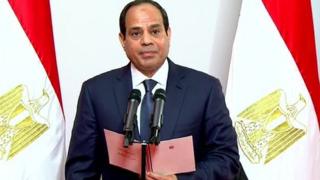 Former army chief Abdul Fattah al-Sisi has been sworn in as Egypt's new president after winning elections in May by a landslide.
Security forces were sent to key locations around the capital Cairo ahead of the ceremony at the Supreme Constitutional Court.
Sisi pushed out elected President Mohammed Morsi last July following mass protests.
Since then he's been trying to deal with Mr Morsi's Muslim Brotherhood, who didn't take part in the elections.
Mr Sisi was sworn in for four years at a ceremony shown live on television.
Many Egyptians believe that after three years of conflict and fighting Mr Sisi is the saviour they have been waiting for. Lots of people are expected to celebrate in Cairo's Tahrir Square.
But Mr Sisi's opponents worry his election victory will mark a return to a stricter, one party rule and they're angry about the way he took power.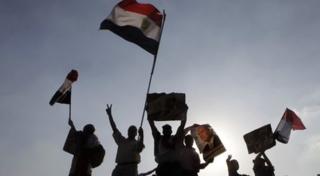 AP
Time to work
In his speech after the poll, Sisi said he wanted "freedom" and "social justice", and that it was "time to work".
But fixing Egypt's problems is a tough task.
More than a quarter of Egyptians live in poverty, and Sisi faces lots of challenges, including fixing the economy and preventing further political crises.