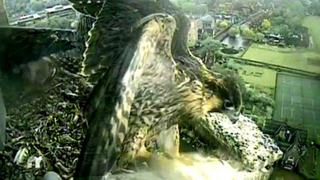 Falcon chicks fly nest
Take a look at these peregrine falcon chicks!
They have been nesting on the roof of Norwich Cathedral and are starting to test their wings ready to fly.
There are four chicks in the nest, a special camera has let people watch them grow and finally take off.
Four other chicks hatched there in 2013, the second brood in the city since 2011 and among the first in 200 years.
Watch more Newsround videos