A World War Two veteran who disappeared from his nursing home to attend the 70th D-Day commemorations in France, is safely back home.
Bernard Jordan was a young officer in the Navy when he crossed the English Chanel in 1944 to fight on the beaches of Normandy on D-Day.
At 90 years old, he lives in a care home in the south of England.
The veteran was desperate to join his colleagues to commemorate the 17th anniversary of the landings, but when he was told it couldn't be arranged in time he decided to hide his medals under his grey coat and set off to France without telling anyone.
Bernard even made friends with young soldiers on the ferry to Normandy and joined in with singing on board the boat.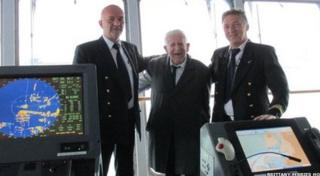 Brittany Ferries HO
After the 70th anniversary event, Bernard said it was a first class show and hopes to go back to Normandy next year.
D-Day was the biggest seaborne invasion in history. A massive military force set out from the UK towards France and thousands of British soldiers landed on the beaches of Normandy to break through the German army's defences.
Find our more about D-Day and why it is important with our Guide.
You can also watch our Newsround Special on the 70th anniversary of the D-Day landing.