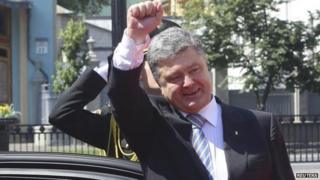 Reuters
Petro Poroshenko has been sworn in as president of Ukraine and set out a plan to bring peace to the conflict-torn east of the country.
The new President said he did not want war or revenge, but he also said he had told Russia's president that Crimea, which Russia has taken over, would "always be Ukrainian".
Ukranians who want the country to remain independent have accused Russia of backing armed militants in the eastern area of Donbass, Russia says this isn't true.
Fresh fighting
Ukrainian rebels, who support Russia are continuing to hold a number of government buildings in the east of Ukraine, and there have been reports of new clashes near the rebel stronghold of Sloviansk.
Ukraine has faced months of fighting between those who want the country to be closer to the rest of Europe and people who want closer ties with neighbouring Russia.
Last week at least 30 people from pro-Russian forces are believed to have been killed over fierce fighting in the city of Donetsk, after a pro-Russian group tried to take over the airport.
An end to violence
Mr Poroshenko and Russian President, Vladimir Putin have agreed that the fighting in Eastern Ukraine should be brought to an end as quickly as possible.
Read out guide to find out more about what's happening in Ukraine.