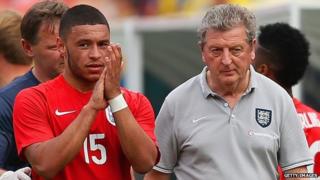 Getty Images
England football boss Roy Hodgson says he's optimistic that Alex Oxlade-Chamberlain will be fit to play in the World Cup.
Arsenal star Alex left the team hotel on crutches on Thursday after hurting his knee in a friendly game against Ecuador on Wednesday.
England have until the day before their first game against Italy to decide whether to replace him.
Roy said it was "disappointing" that Alex had been injured.
"It's too early to make any decisions about what happens next. We obviously are all hoping for the best," he said.
Alex, who plays as a midfielder for England, said: "I'm staying positive and getting to work with the medical team on recovery."