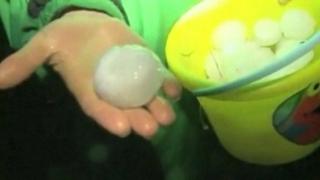 Hail the size of tennis balls in US
Giant hail has hit the US state of Nebraska, leaving vehicles and homes damaged.
Severe weather has been sweeping the Mid-Western states, with tornado warnings in south-west Iowa and north-west Missouri.
Meanwhile, boats have been used to rescue residents cut off by flash floods.
Footage shows baseball-sized hail in Wilber, Nebraska, while in Missouri Valley, Iowa, an eyewitness captured the moment 90mph winds ripped the roof off a gas station.
Ricky reports on the severe weather.