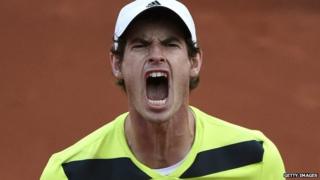 Getty Images
Andy Murray had a late surge in energy to beat childhood friend Gael Monfils in five sets and reach the French Open semi-finals.
Murray let a two-set lead slip but raced through the fifth to win 6-4 6-1 4-6 1-6 6-0 in near darkness at 21:40pm .
It's the second time the Scot has ever reached the semi-finals of this competition.
Murray goes on to face eight-time champion Rafael Nadal, who he lost out to in the French Open semi-finals of 2011.