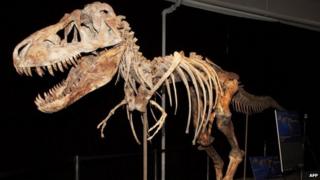 AFP
An American man has been jailed for three months for smuggling dinosaur fossils, including a 70-million-year-old Tyrannosaurus bataar from Mongolia.
Erik Prokopi was called a "one-man black market in prehistoric fossils", meaning he was selling them illegally.
The Tyrannosaurus bataar skeleton was returned to Mongolia, near China in east Asia, in May 2013.
He had sold it at auction in May 2012 for more than $1m (£600,000) but the US government confiscated it.
Mr Prokopi was accused of lying about what was inside packing cases of dino fossils that he was sending to America from Mongolia.
He'd told officials that the fossils were worth much less than their real value.
He also admitted illegally importing a Chinese flying dinosaur, two oviraptors and a duckbilled creature known as a Saurolophus.
'I was wrong'
"I sincerely love fossils," Prokopi told the judge of the case in court in New York City on Tuesday.
"What I did was wrong, and I failed to appreciate the gravity of what I have done."
The judge then said that sending the man to prison would send a message to others who might want to make money illegally from fossils.
"He is clearly not a bad person, but he has done a bad thing," Judge Hellerstein said.