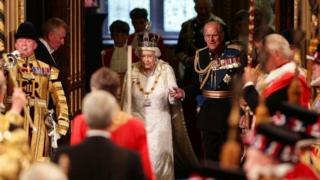 Queen's Speech at opening of Parliament
The Queen has set out what the government plans to do during the last session of Parliament before the general election in May.
included the introduction of a 5p charge for plastic carrier bags in shops in England, with the money raised going to charity.
The government also wants to change rules on how much money parents get towards the cost of childcare and how much money older people get when they finish work.
It is a big moment for the government and a very grand occasion.
Martin's got more on the story.
Watch more Newsround videos