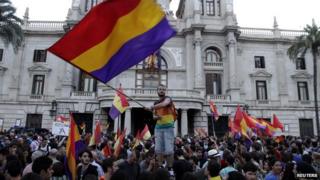 Reuters
Tens of thousands of people in Spain have been protesting, wanting an end to the country's monarchy.
The protests came after Monday's announcement by Spain's king, Juan Carlos, that he would step down. He wants his son Felipe to take over.
Ministers are now working on a new law which would allow this to happen, but the process could take weeks.
But some people want a vote on whether or not the country should continue to be run by a monarch.
Spain's history
For a long time the country had a monarchy and the last crowned head of state of Spain was Juan Carlos' grandfather who ruled in the early part of the 20th century.
But in 1939, after a big war in Spain, the country began to be ruled by dictator, General Franco, instead of a king.
General Franco decided that Juan Carlos would be head of Spain after he died. Juan Carlos took over in 1975 and restored a monarchy in the country.