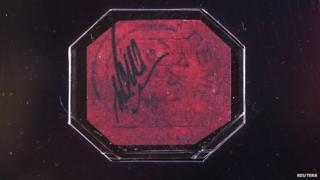 Reuters
The world's most expensive stamp is on display in London ahead of its auction later this month.
It's expected to go sell for between £6million to £12million!
The stamp is the only known surviving 1856 one cent magenta stamp from British Guiana, which was in South America.
It has been sold at auction three times before and each time the stamp set a new world record.
And it is expected to set yet another high when it goes under the hammer in New York, America, on June 17.
Originally the stamp was found by a 12-year-old Scottish boy living in British Guiana in 1873.
He found it among family papers, but had no idea that even at the time it was a rare find...