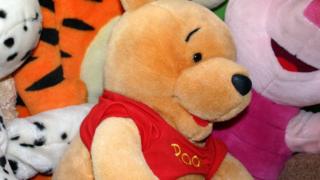 Winnie the Pooh has been named as the favourite children's book of the past 150 years, in a poll of more than 2,000 adults.
It beat Alice's Adventures in Wonderland, which came second, and The Very Hungry Caterpillar, which came third.
The Gruffalo, by Julia Donaldson, was the most recently written book making the top ten, coming in fifth place.
We asked you what your favourite books are and why...
Top 10 favourite children's books according to the poll:
Winnie the Pooh - AA Milne

Alice's Adventures In Wonderland - Lewis Carroll

The Very Hungry Caterpillar - Eric Carle

The Hobbit - JRR Tolkien

The Gruffalo - Julia Donaldson

Charlie And The Chocolate Factory - Roald Dahl

Black Beauty - Anna Sewell

Treasure Island - Robert Louis Stevenson

The BFG - Roald Dahl

The Lion, The Witch And The Wardrobe - CS Lewis
Comments page is now closed
Your comments
I love most books because they just take you to another world, with wizards, vampires and demons.
Amy, Essex, England
I would have to pick The magic finger by Roald Dahl, it's not the most famous of his books but it is one of my favourites.
Chantel, London, England
My favourite book is the Fault In Our Stars, its amazing!
Amelia, Leeds, England
I absolutely love the Wind In The Willows, I like the Famous Five, Michael Palin books and horrible histories are great as well.
George, Sussex, England
My favourite book has to be Demon Dentist by David Walliams, but I like the series of unfortunate events as well.
Arianne, Bridgend, Wales
I like Dead Man's Cove by Lauren St. John!
Rowan, West Midlands, England
Joke books I love so much especially Harry Hill but Harry Potter by JK Rowling has to be my favourite!
Cerys, Kent, England
Percy Jackson series, they are fascinating.
Jakob, Darlington, England
You simply can't beat Enid Blyton's Famous Five and the Secret Seven is great as well!
Sam, Harrow, England
I think Gangsta Granny is the best book ever!
Faith, Northwich, England
All the Harry Potter books are the best.
Ione , Vamos, Greece
I love Matilda by Roald Dahl. I love it that much I am reading it again.
Bob, London, England
My favourite book series is the Famous Five because it's full of adventure, thrill and horror.
Leah, West Sussex, England
I love Pride and Prejudice alongside any Agatha Christie Book!
Ameerah, Glasgow, Scotland
My favourite book is called We're Going on a Bear Hunt.
Saara, Bolton, England
We are enjoying Michael Morpurgo books at the moment. We just read This Morning I Met a Whale and we loved it even though it was quite sad.
Roald Dahl is still our favourite author though!
P5, Dundee, Scotland
The Very Hungry Caterpillar is the best!
Gorse, Boyle, Ireland
I really like The Boy in the Striped Pyjamas.
Phil, Epping, England
Can't You Sleep Little Bear by Martin Waddell, is my all-time favourite book.
Joanne, Burton on Trent, England
Horrid Henry is our class's favourite book. Our favourite Horrid Henry story is Mummy's Curse. We like it because it's exciting and funny. We also like mummies.
Year 2, Doncaster, England
I would have to choose Pippi Longstocking because she is such an original, hilarious character!
Osha, Walsall, England
The Hunger Games trilogy - if you haven't read them then do, it's worth it!
Cleo, Spain
Diary of a Wimpy Kid is brilliant and it has a movie to go with it!
Mahad, Sheffield, England
My favourite children's book is Charlie and the Chocolate Factory by Roald Dahl because it's about CHOCOLATE!
Lois, Doncaster, England
I love Harry Potter, best book EVER! But the Series of Unfortunate Events are good too!
Anna, London, England
The Three Little Pigs are the best!
Courtney, Sheffield, England