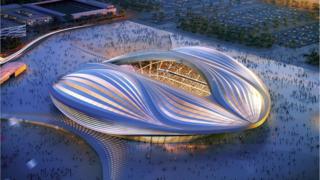 Calls for re-vote on 2022 Qatar World Cup
Fifa, the organisation that runs world football, is facing calls to re-run the vote for the 2022 World Cup hosts.
A newspaper has alleged Qatar, in the Middle East, won the vote unfairly.
The Sunday Times said it has secret documents that suggest Qatari football official Mohamed Bin Hammam paid lots of money to other officials in return for support for the Qatar bid.
Qatar strongly denies doing anything wrong, saying Mr Bin Hammam never had any official role supporting the bid.
They say he always acted independently from the Qatar 2022 campaign.
Martin reports on what could mean problems for Qatar.