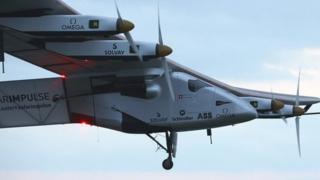 Solar plane makes first flight
A solar-powered plane, that will try to fly around the world next year, has made its first test flight.
Solar Impulse 2 lifted off from Switzerland early this morning and returned two hours later.
The carbon-fibre aircraft has a huge wingspan of 72m - that's wider than a Boeing 747 jet - but it weighs about the same as a large car.
Watch more Newsround videos