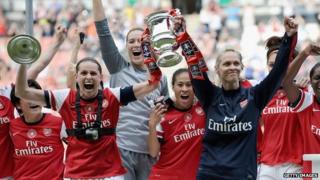 Getty Images
Arsenal Ladies have won the FA Women's Cup for a 13th time.
They beat Everton 2-0 with goals in each half from Kelly Smith and Yukari Kinga.
The win means both the Arsenal men's and women's teams have triumphed in the FA Cup this year.
Arsenal Ladies are the most successful women's club in England and have now won 41 major trophies since they were formed in 1987.