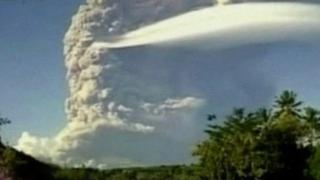 Indonesia volcano stops Oz flights
Have a look at these huge ash clouds created by a volcano in Indonesia, south-east Asia.
Mount Sangeang Api started erupting on Friday and plumes of ash have been sweeping towards Australia.
It's forced airlines to cancel flights hundreds of miles away in Australia's northern city of Darwin.
Officials have warned that there could be more disruption to come.
Watch more Newsround videos