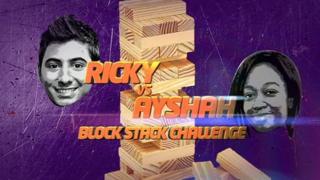 Can Newsround break a world record?
Could you build 10 extra levels on a Jenga tower in less than 30 seconds?
Or spin your chair round more than 40 times in half a minute?
Newsround's Ricky and Ayshah have gone head-to-head at CBBC Live in Newcastle Gateshead as they try and break not one but two world records.
Can they do it? And who will come out on top? Watch one of the biggest battles Newcastle Gateshead has ever seen!
Watch more Newsround videos