The Queen's Baton Relay has arrived back in England, as it continues its journey across the British Isles.
After seven days in Wales, the baton is now in Manchester, which hosted the Commonwealth Games in 2002.
Cyclists Matt Crampton and Jess Varnish are welcoming the baton at the National Cycling Centre.
It's also going to Congleton Park in Cheshire and to Manchester United's Old Trafford ground.
What are the Commonwealth Games?
The baton began its journey at Buckingham Palace in October and has visited Commonwealth countries across the world. It arrived back in the British Isles earlier this month.
The baton goes to Scotland on 14 June before reaching its final destination, Glasgow, in time for the start of the Commonwealth Games on 23 July.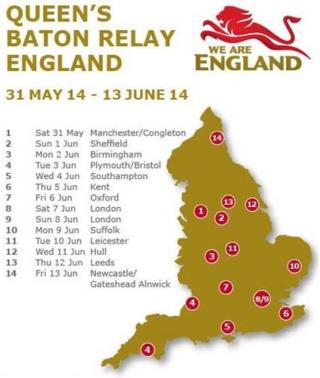 We Are England