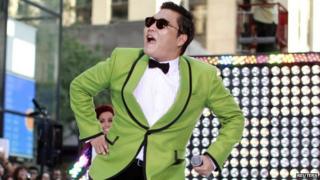 Reuters
Gangnam Style by Psy has become the first video on YouTube to reach 2 billion views!
The chart-topping song's famous horse dance catapulted Korean pop singer Psy to global stardom two years ago.
Psy tweeted: "Very honourable and burdensome numbers. With the appreciation, I'll come back soon with more joyful one! #THX."
The only video that comes anywhere close is Justin Bieber's Baby, which has 1 billion views.
Gangnam Style became the first YouTube video to get 1 billion views - back in December 2012..