An American soldier who was held prisoner for nearly five years in Afghanistan has been freed.
Sergeant Bowe Bergdahl was captured by the Taliban, a hard-line Islamic group that used to run Afghanistan.
He's now been handed back to US forces in exchange for five Afghans who were being held by America.
Sergeant Bergdahl is said to be in good condition. He has now left Afghanistan and is heading to a military hospital in Germany.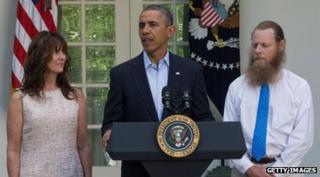 Getty Images
He'll get medical treatment there and start reconnecting with his family via telephone and video calls.
US President Barack Obama announced the release with Sergeant Bergdahl's parents at the White House on Friday.
The soldier's parents said they were "joyful and relieved". Sergeant Bergdahl's dad said his son was having trouble speaking English after his rescue.