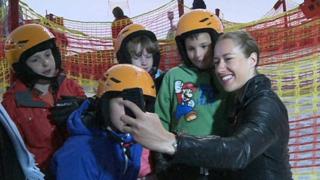 Lizzy gives kids her top tips
Winter Olympic champion Lizzy Yarnold has been giving children her top tips for success.
Since Sochi, Lizzy has had hundreds of requests for school visits to talk about her victory. Last month she met some lucky kids at the Chill Factore in Manchester.
Lizzy told Newsround: "That is actually what it's all about, passing my ambitions and my gold medal - showing them - passing on to the next generation."
She also told Hayley the best thing since Sochi: "Going on Blue Peter and being given the gold Blue Peter badge."
Watch Hayley's report, where she's brave enough to challenge Lizzy to a race on the slopes!
Watch more Newsround videos