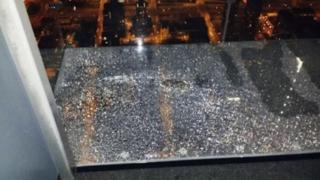 Skyscraper viewing platform cracks
A glass viewing platform high up the Willis Tower in Chicago, USA has cracked while four men were standing on it.
The pane was part of a glass observation ledge 103 storeys up the skyscraper.
A building spokesman said the damage was to the protective coating on the glass and that nobody was in danger.
The cracks could have been the result of a sharp item being dropped on the pane.
Footage courtesy of ABC News
Watch more Newsround videos