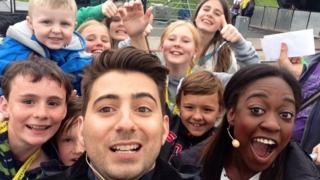 Ayshah and Ricky's CBBC Live tour
This weekend some of your favourite CBBC shows are broadcasting live from Newcastle Gateshead.
Ricky and Ayshah are there to present Newsround and sent us a video showing what goes on behind the scenes.
CBBC Live in Newcastle Gateshead is free to attend and is taking place in and around Baltic Square in Gateshead on 29, 30 and 31 May.
Watch more Newsround videos