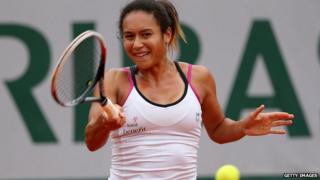 Getty Images
Great Britain star Heather Watson has been knocked out of the French Open in Paris, losing to Romanian Simona Halep.
Heather started positively in the first set attacking her opponent, but Simona had too much power for the British star.
The first set was over in just 32 minutes, with the Romanian winning 6-2.
The second set started badly for Heather too, with the number four seed taking control with an early break of serve.
Heather tried hard to make a breakthrough, but Simona always looked in control, winning the match 6-2 6-4.
Simona Halep will now face Maria Toro Flor in the third round, with the added pressure of being the highest seeded player left in the tournament.