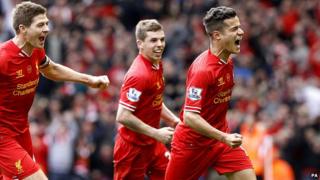 PA
Manchester United legend Paul Scholes says England should play attacking football like Liverpool if they want to progress in the World Cup.
Brendan Rodgers brought the best out of Liverpool this season, with his side scoring 101 goals, dominating the attack and pressurising their opposition.
Writing online, Scholes says if England have the same mentality as Liverpool heading to Brazil, fans would prefer an attacking England, compared to the 0-0 draws in the past.
England kick off their World Cup challenge on June 14 against Italy, which will be a tough battle trying to break through Italy's strong defensive play.