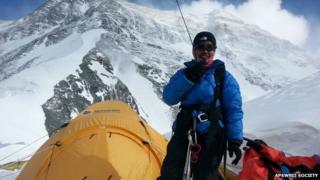 APSWREI Society
A 13-year-old Indian student has become the youngest girl to climb Mount Everest.
Malavath Poorna says she felt "great" on reaching the summit on Sunday. The schoolgirl lifted an Indian flag at the top in celebration.
Malavath now wants to be a role model for other kids from poor backgrounds.
At 13 years and 11 months, she is just a month older than the world's youngest Everest climber - American Jordan Romero reached the top in 2010.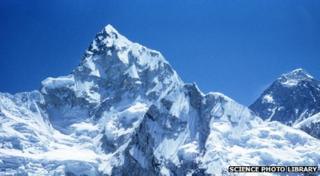 Science Photo Library
She didn't do it all by herself: as many climbers of the world's highest peak do, she had help from local mountain guides, known as Sherpas, to reach the top, 8,848m up.
Officials says her achievement is made even more impressive because she had to climb the peak from the more difficult Tibetan side.
Usually climbers use the easier route from Nepal, but Nepalese law says you have to be 16 years old to climb the mountain.
Role model
Malavath is from a small tribal village in southern India.
Both her parents work on farms and only earn about £355 a year.
She was trained by a government scheme to help kids from poorer backgrounds.
"The aim of my expedition was to inspire young people and students from my kind of background," she says.
"I was initially afraid, but the training I received helped me overcome my fear. I never thought of giving up."
The thing that she missed the most when climbing was her mum's cooking, especially her fried chicken.
She also spoke about her view from the top of the world: "All around me were mountains. It was very beautiful."