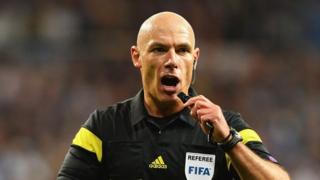 How a referee prepares for the World Cup
It's not just footballers who are warming-up for this summer's World Cup in Brazil.
Referee Howard Webb is hard at work getting himself in to top condition for the tournament too.
For two weeks, he trained in a chamber heated to 40C just to get ready for football's biggest event.
Scientists at Sheffield Hallam University believe Webb will lose 10 pints of sweat during every World Cup match he takes charge of.
Watch this video clip to hear how he's feeling ahead of the tournament.
Watch more Newsround videos