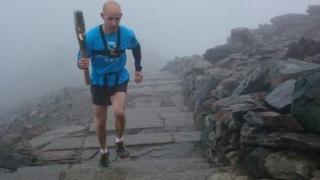 Queen's Baton reaches Mount Snowdon
It's ridden on the back of elephants in Sri Lanka and dived deep in to the Indian Ocean, but this morning the Queen's baton scaled new heights - heading to the summit of Mount Snowdon.
Snowdon is the tallest mountain in Wales at 1,085m high - and it's the highest part of the British Isles outside the Scottish Highlands.
Runners started the hill sprint at around 7am this morning - reaching the top in an impressive 46 minutes.
Check out the video clip and see if you can make it out through the murky skies...
Watch more Newsround videos