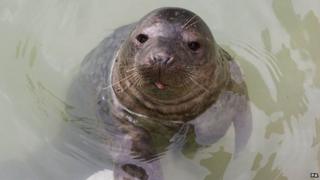 PA
Rover the seal pup is ready to be released after being washed up into a garden when storms hit Portreath, Cornwall in February.
The little seal was very confused when found in the garden, hundreds of metres away from any beach.
Rover had lots of cuts and bruises and was taken to The Cornish Seal Sanctuary and spent ten days in hospital.
Sanctuary workers weren't sure how he ended up in the garden but assumed he tried to get away from the big waves.
Tamara Cooper from the Seal Sanctuary said: "He was a good healthy weight, but had taken a bit of battering from being tossed around by the heavy seas."
Rover made a full recovery and is now healthy enough to be released back into the wild at the start of June.