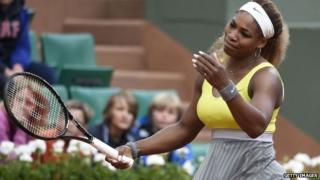 Getty Images
Defending champion Serena Williams followed her sister Venus out of the French Open on a dramatic fourth day.
Serena lost 6-2 6-2 to Spain's Garbine Muguruza after Venus had earlier been beaten 2-6 6-3 6-4 by Slovakia's Anna Schmiedlova.
Fans had been looking forward to a possible showdown between the sisters in the third round, but now Muguruza will play Schmiedlova.
The sisters last lost on the same day at a Grand Slam at Wimbledon 2011.
Serena looked completely off her game in her match, making lots of errors in a loss that took just over an hour.
Venus had earlier made a strong start before losing eight out of nine games against 19-year-old Schmiedlova.
"I felt like this was a match that I was most likely going to win," said Venus. "I don't know how Serena felt, but I'm sure she feels like that every time she goes on the court.
"So I think our expectation was to play in the next round."