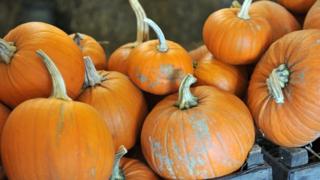 The Great Australian Pumpkin Festival
Welcome to the Great Australian Pumpkin festival!
It's held in the small country town of Goomeri and attracts visitors from all over the world.
There are events like Pumpkin Bowls, the Giant Pumpkin competition and the Pumpkin Power Shot Put.
The celebration of the humble pumpkin began with a festival designed to bring people together in the local community. Now it's so popular they do it every year.
Watch more Newsround videos