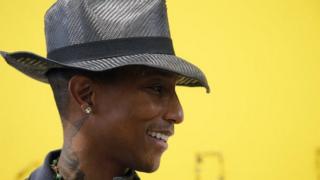 Pharrell - Happy took me ten attempts
Pharrell Williams is the songwriter and producer behind huge tracks like Get Lucky and Happy.
He's worked with some of the biggest music stars in the world including Kanye West, Justin Timberlake, Beyonce and Daft Punk.
His track Happy, from the film Despicable Me 2, has been viewed millions of times online and was even nominated for an Oscar.
Its energetic video spawned a huge number of tributes online from fans all over the world.
But Pharrell says it took him ten attempts to get the song just right.
Watch more Newsround videos