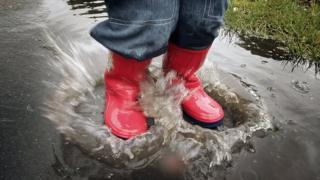 Many of you are on your half-term holidays this week - and for many of us it's been a pretty damp start.
In many parts of the country for the past few days it's been raining - a lot - when lots of you are looking to get outside to have fun.
So we asked: what do you get up to when it's tipping it down outside?
Do you make up new games to play around the house? What's your favourite indoor game?

Or are you brave: do you throw on your wellies and waterproofs and get outside anyway? Maybe you love getting muddy and soaked?
You've been letting us know how you make the most of soggy holidays...
This chat page has closed but here's a selection of your comments below:
Your comments
I normally make Airfix with my brother. It can take me all day and I have something to be proud of after.
Edward, Somerset, England
Today I went to the Pinner Fair! I went on 3 rides and ate candyfloss! It was raining but I didn't mind as I was having so much fun!!
Charlotte, Pinner, England
I have done lots of shopping but tomorrow I am starting a two day music course apparently Emeli Sande's vocal coach will be there!
Hannah, London, England
As it was raining today, me, my mum and my little brother Harry went to see a movie at the cinema.
Holly, Preston, England
The rain has been messing up my half-term plans but I still like getting myself wet and muddy so I got my boots and raincoat on and went outside to play in the rain!
Divya, London, England
My favourite thing to do when it's wet is to either bake or paint with my brother or sister and to watch CBBC all day.
Jasmin, Rickelton, England
As it is raining today, me and my family are going to a leisure centre to play badminton but it's a shame to have such bad weather in our half-term holiday.
Freya, Haywards Heath, England
I will stay in my house. My favourite indoor game is playing with my sister with dolls.
Seoyun, Madrid, Spain
I am staying in the warm and having a lovely hot chocolate while watching a movie.
Rhiannan, Hereford, England
I have been going outside and playing cricket in the rain with my sister. I love rainy days.
Shayna, Middlesex, England
I would jump in puddles and have a water balloon fight.
Soloman, Bolton, England
Go outside and adventure in the wilderness. Lots of insects and animals hide under leaves so it is easy to find them. It is great fun.
Hunter, London, England
I play hide and seek with my sister.
Rosie, Cardiff, Wales
I like to throw stale bread in puddles and watch it get bigger and bigger.
Callum, Rochdale, England
My brother and I love making animations out of modelling clay, it's easy to do: just grab a device and some play-dough and you can dive into a world to your liking.
Charis, London, England
Doing arts and crafts indoors.
Erin, Isle of Wight, Newport
Falling in puddles! Oh yeah!
Christian, Rugby, England
I like to curl up in bed or in a blanket and watch TV or play on an electronic device.
Kemi, London, England