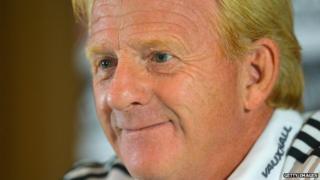 Getty Images
Scotland manager, Gordon Strachan is pleased with the progress of his team leading up to Wednesday night's match against Nigeria.
Despite missing out on a place in this year's World Cup, Strachan is positive ahead of the final friendly match before qualifying starts in September for Euro 2016.
Strachan was appointed as Scotland manager in January 2013 and has had a pretty good run of form, winning the last four games.
He hopes to use the last friendly as a good test for his team and look forward to the qualifying matches in September.
You can watch Scotland v Nigeria on BBC One Scotland. Kick-off is at 8pm.