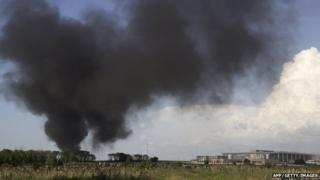 AFP/Getty Images
Ukraine's government say the army is now back in control in the city of Donetsk after a pro-Russian group tried to take over the airport.
Fierce fighting between Ukrainian soldiers and pro-Russian forces began on Monday.
The Ukrainian government sent helicopters and fighter jets to launch air attacks in response.
At least 30 people from pro-Russian forces are believed to have been killed.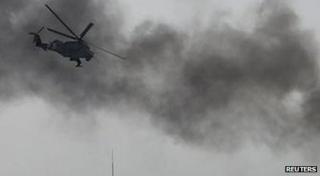 Reuters
Ukraine's government says the army suffered no casualties.
Government Minister Arsen Avakov said in a statement: "The airport is under our full control. The enemy suffered heavy losses. We have none."
He said operations were still going on, and a BBC team heard gunfire on Tuesday.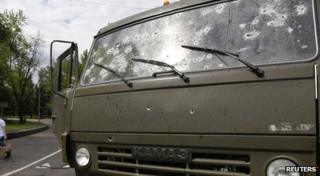 Reuters
The fighting came as Petro Poroshenko, Ukraine's new president, said he wanted to talk to Russia to end the ongoing crisis.
Mr Poroshenko claimed victory in the country's presidential election held on 25 May.
Russia has said it will work with the new president to try to sort things out; but it wants Ukraine to put a stop to the violence.
The country has faced months of unrest between those who want Ukraine to be closer to the rest of Europe and people who want closer ties with neighbouring Russia.