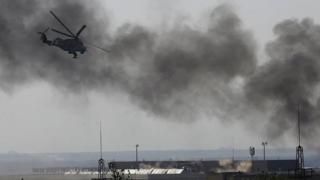 Battle to control Ukrainian airport
A stand-off between Ukrainian soldiers and pro-Russian forces is continuing at Donetsk airport.
Armed groups, who want Russia to have more control across Ukraine, had tried to take over the airport on Monday.
The Ukrainian government sent helicopters and fighter jets to launch air attacks in response.
The fighting came as Petro Poroshenko, Ukraine's new president, said he wanted to talk to Russia to end the ongoing crisis.
The situation follows months of unrest between those who want Ukraine to be closer to European countries like Britain and France and those who want closer ties to neighbouring Russia.
You can find out more about what's happening in the Ukraine on our guide.
Watch more Newsround videos