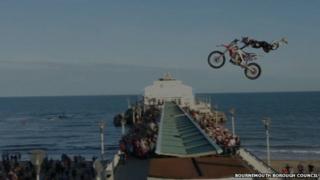 Motocross rider jumps Bournemouth Pier
A freestyle motocross rider has become the first person to jump over Bournemouth Pier on a motorcycle.
Dan Whitby from Norfolk completed the stunt on Sunday, on the second day of the first Bournemouth Wheels Festival.
The jump had been due to take place on Saturday but rain and high winds meant the stunt was delayed.
Watch more Newsround videos