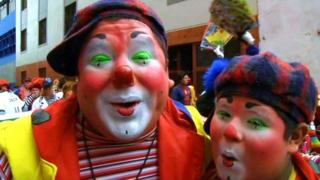 Annual clown parade in Peru
Hundreds of professional clowns marched through the streets of Lima in Peru on Sunday.
They were celebrating Peruvian Clown Day.
The colourful entertainers danced to live music and delighted the crowds by making faces and playing with puppets.
The Cultural Association of Clowns and Circus Performers of Peru started its annual march in 2006.
Watch more Newsround videos