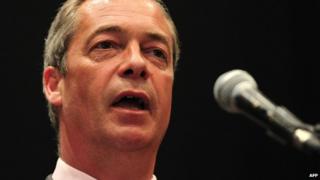 AFP
The results of the European elections show UKIP has won more seats in the European parliament than any other party in the UK.
UKIP campaigns for the United Kingdom to leave the European Union.
Northern Ireland still have results to declare, but so far UKIP have won 24 seats.
Labour have won 20 seats, the Conservatives have 19, and the Liberal Democrats have won just one.
UKIP leader Nigel Farage said it was "just about the most extraordinary result in British politics for 100 years".