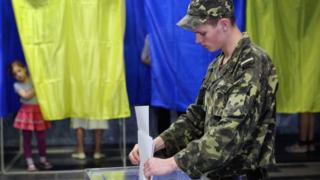 Ukrainians vote in important election
Ukrainians are going to the polls to vote in a new president after months of unrest.
The presidential elections were called after the last elected President, Viktor Yanukovych, was kicked out of the country in February following protests against his pro-Russian policies.
Eighteen candidates are competing in the presidential race, which is being seen as a very important time to unite the country.
But protestors who want more ties with Russia, who are against the election, have threatened to disrupt the voting process.
More than 75,000 police and volunteers are in place to make sure people can vote safely.
You can find out more about what's happening in the Ukraine on our guide.
Watch more Newsround videos