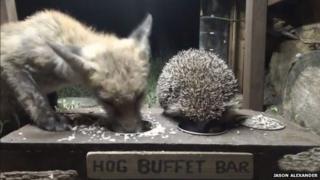 Jason Alexander
A fox and a hedgehog have become unlikely mealtime friends.
The animals have been captured sharing food on webcams set up by wildlife watcher Jason Alexander, at his home in Suffolk, England.
Mr Alexander has set up nest boxes and feeding stations around his garden and has around 30 cameras monitoring them.
He said the hedgehogs feed about 10 times a night, and are most likely to be joined by their fox friends between 1am and 3am.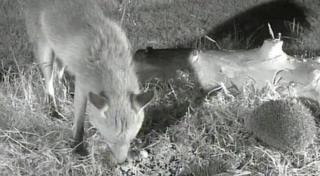 Jason Alexander
"You naturally think the fox will see the hedgehog as prey, so I was surprised to see them feed side by side," Mr Alexander said.
He added: "I think there have been several of each using the feeding stations. They seem to tolerate each other."