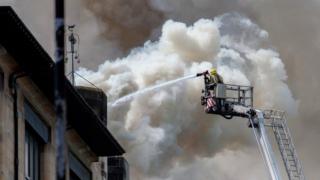 Fire crews save Glasgow art school
Firefighters say they've managed to save the Glasgow School of Art and most of what's inside after a massive blaze.
Scottish Fire and Rescue Service crews prevented the destruction of both the structure and most artworks.
Fire broke out at the A-listed building at about 12:30 on Friday.
Eyewitnesses said the fire appeared to have started when a projector exploded in the basement of the building on Renfrew Street in the city centre.
Watch more Newsround videos