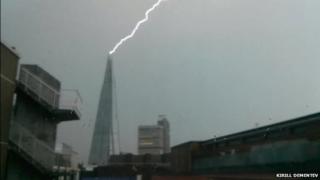 Kirill Dementev
Dramatic photos show the London Shard - the tallest building in western Europe - being struck by lightning on Thursday afternoon during heavy storms.
Standing at a massive 310m (1,016ft), the 87 storey building took several lightning bolts during the short storm.
Tall buildings often attract lightning but have safety features built into them, meaning the electricity is diverted harmlessly straight into the Earth.