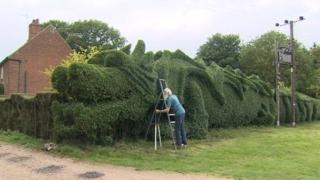 Hedge turned into a mystical dragon
A 75-year-old man said he spent 13 years crafting a boring hedge into a giant dragon.
The mystical dragon is nearly fifty metres long and three metres high, attracting lots of visitors and local walkers who admire the fairytale creation.
John Brooker spends up to three days every two to three weeks trimming, to keep it looking fiery and realistic.
He said: "I was standing at my kitchen sink one day and thought the hedge was boring so decided to do something with it."
Watch more Newsround videos