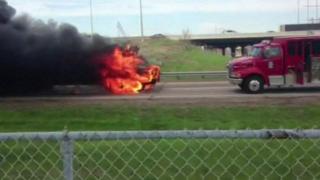 Blazing bus nearly hits fire truck
A fire crew has had a narrow escape after a blazing school bus started rolling towards its truck in the American state of Minnesota.
The driver of the empty bus had pulled off the highway when he smelled smoke. He escaped unharmed.
But as the bus slowly began to move forward, the driver quickly put the fire engine into reverse, allowing the flaming bus to come to a stop.
Fire crews then managed to put out the flames.
Luckily no-one was hurt, including the bystander who caught the action on camera, and moved back as he realised what was happening.
Watch more Newsround videos