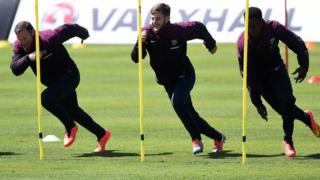 England players wrap up in heat
England coach Roy Hodgson is making his World Cup stars wear lots of layers of clothes in training, to try to get them used to the heat of Brazil.
Coach Roy Hodgson says he wants his players to get used to feeling uncomfortable in hot temperatures, so wearing extra clothes is one idea.
The players sweat levels are also being tested to see how well they are recovering.
England face Italy in their first match in World Cup Group D in the jungle city of Manaus on 14 June, before taking on Uruguay and Costa Rica.
Watch more Newsround videos