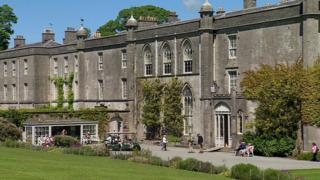 Sea water used to keep mansion warm
A mansion in Wales has been fitted with new technology to heat its rooms - using sea water!
Sea water can be very warm, even in the UK, which makes it a great source of heat.
Plas Newydd has been fitted with a heat pump system that takes warm water from deep in the sea and pumps it into a heat exchanger.
The heat exchanger increases the temperature of the water before it is sent over to the mansion to keep it warm.
The system uses electricity to work but allows the mansion to be heated without burning fuel like oil or gas.
Adam Ellis-Jones from the National Trust said: "With the Irish Sea right on the doorstep, a marine source heat pump is the best option for us."
"There are very few marine source heat pumps and none of this size in the UK, so it has been a challenging project," he added.
The heat pump cost the National Trust £600,000 but is expected to save the organisation around £40,000 a year in operating costs.
Watch more Newsround videos